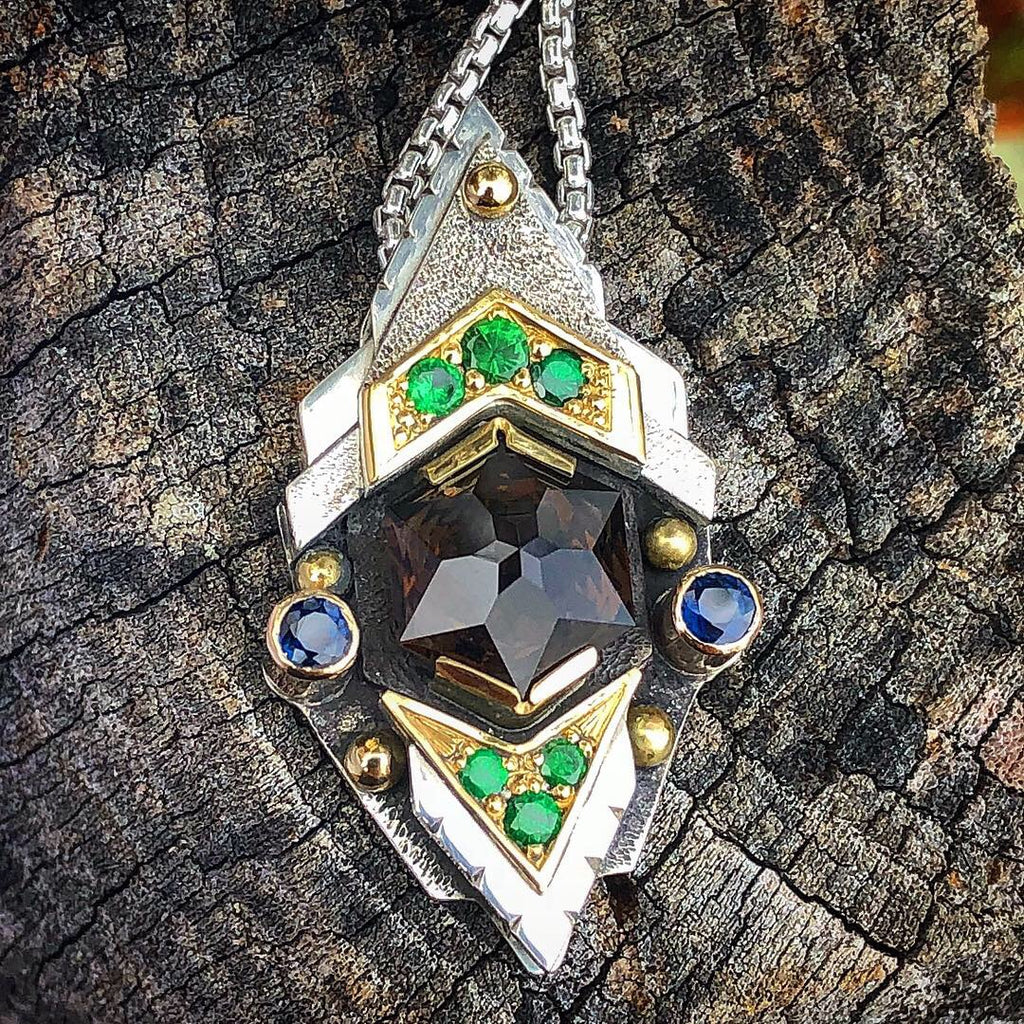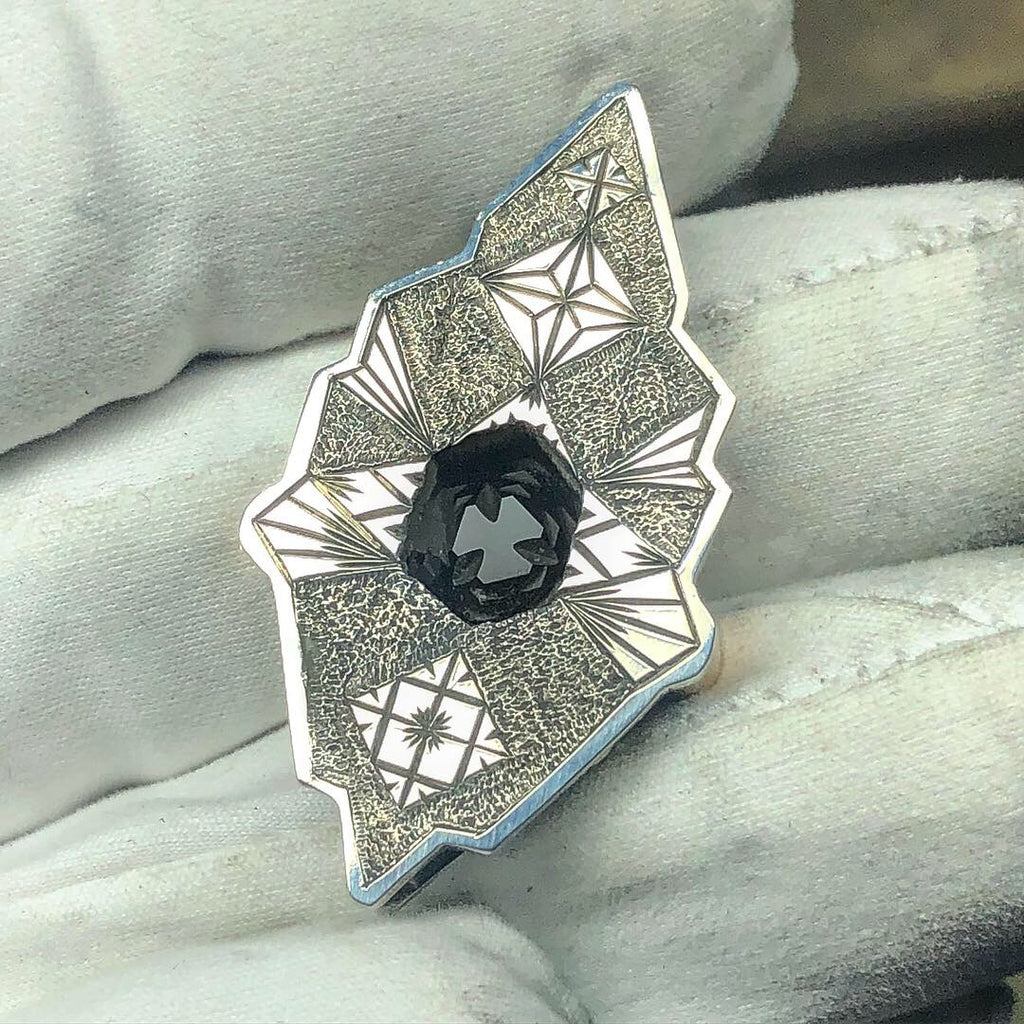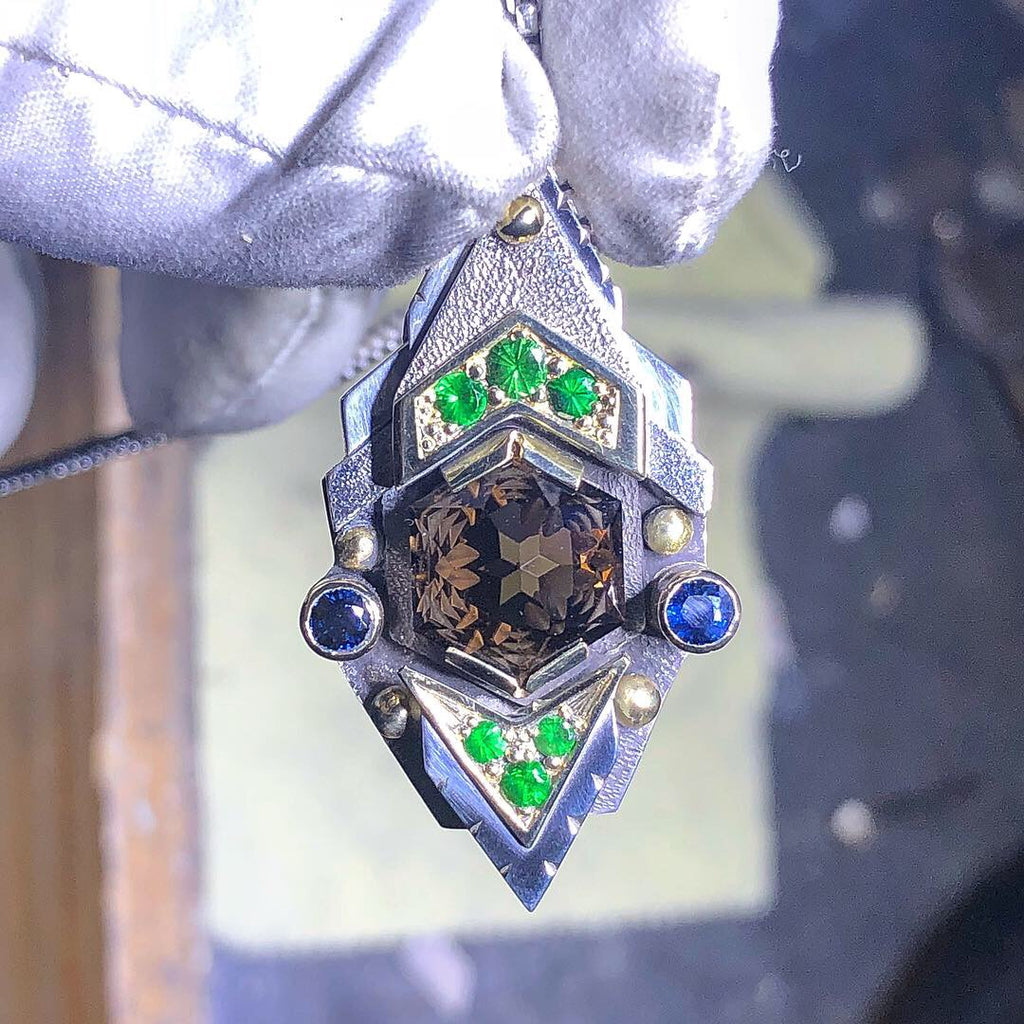 $1,500.00
$2,000.00
Alchemy Series- Stability, prosperity, and spiritual growth
Each piece in the Alchemy Series was handcrafted with intention and has been attuned to a specific frequency and function. Gemstones carry unique vibrations which allow them to transmute negative internal and auric energies, offering multilayered support for those persons on a healing journey. Intention was laced throughout the entire creation process, with specific attention to the interaction of gemstone healing properties, color, and geometries.
Smoky quartz helps build connection with the natural world. Incredibly grounding- it can bring a sense of security and stability to ones life. Tsavorite garnet is the stone of benevolence, vitality and prosperity. It can help one connect with and appreciate their inner beauty. Blue sapphire enhances ones intuition, mental clarity and brings on personal and spiritual growth. A very powerful talisman indeed. 
100% hand fabricated, set and engraved by me. No computers, cad, or templates. My original design. 
Features a 4.5 ct smoky quartz from Hallelujah Junction, Nevada cut by the very talented KJ Card of Foothills Gems. Accented with top color green Tsavorite garnets from Tanzania, Africa and blue sapphires. Constructed using 18k gold, 14k gold, and sterling silver. The backside is hand engraved completely unique original design I came up with on the fly. This piece features some deep relief background removal to give the mandala totem design lots of dimension. 
A lot of love and positive energy goes into my work- I feature my gemstones as much as humanly possible without hiding them in too much business and movement.
Measures: 1.6 x 0.8 inches - low profile 
comes with your choice of 18, 24 or 30 inch chain 
All of my jewelry comes with a lifetime warranty. Need a polishing and cleaning? Just send it back and pay return shipping. I can repair just about anything, so please don't hesitate when making this purchase.
Thank you!